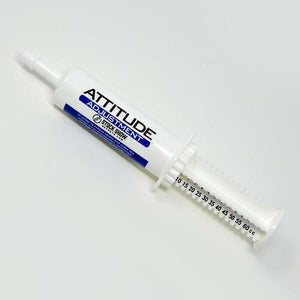 Attitude Adjustment 60cc Tube
Regular price
$20.00
$0.00
Attitude Adjustment is a paste product that will help settle the effects of stress an animal undergoes during every part of the Stock Show experience; sale prep, breaking to show, grooming/clipping, hauling, etc., allowing the animal and showman to concentrate on the task at hand and to work together without any lethargic appearance. 
1 tube contains 60cc
Drug free and contains no banned substances.
Sheep and Goats
Administer at a rate of 15cc to 20cc per head approximately 1 hour prior to show
Cattle and Hogs
Administer at a rate of 30cc to 40cc per head approximately 1 hour prior to show
Tips For Use:  If you are one of those exhibitors that is chasing a banner, here is an even better way to use Attitude Adjustment.  Imagine not having to "put one back together" when you arrive at your big show.  Use Attitude Adjustment to help keep them from stressing.  Give the amount listed above for your specie before you load them to go to the show.  Give them another dose of the same amount when you get to your pen/stall.  Then every time they get up to look around, give them another.  This helps keep their mood and temperament like it would be at home.  This will keep you from having to put one back together... and help you march on toward the banner.
---
Share this Product
---
More from this collection